Bivouac Café du Sud offers several services, including 4X4 excursions, camel trekking, Saara weddings, honeymoon experience, and desert exploration. Experience exceptional welcoming service and comfort amid the mystic desert charm of Morocco's Sahara Desert. Ride on a camel over sun-soaked dunes as this astonishing landscape unwinds in front of you.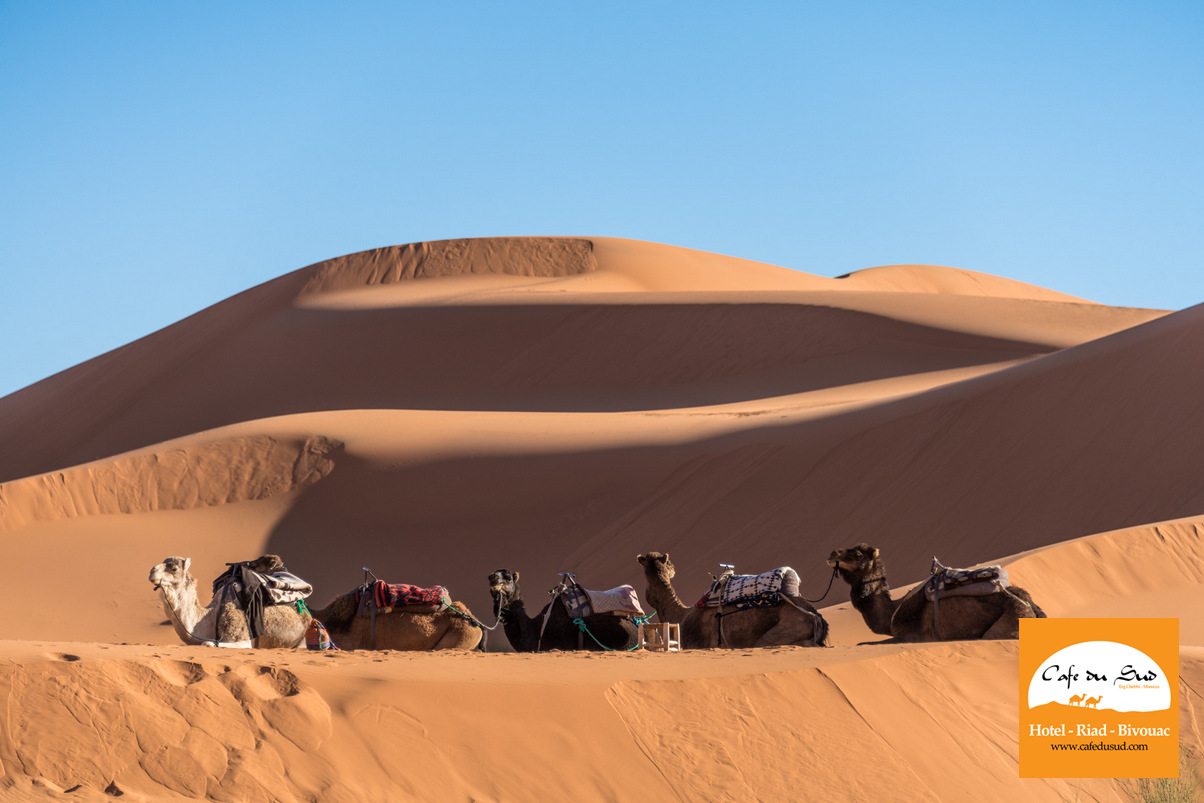 Desert Camps: The Berber tents in our campsite are private and extremely comfortable, including luxury goods in the desert such as electricity inside. For even more exclusive moments, there is the possibility of spending the night in a private tent with a bathroom and shower. We provide three types of desert camps: Standard, Lux and Royal.
Desert Hotel and Swimming Pool: A family-friendly hotel ideally located in the Sahara Desert, with an on-site swimming pool, restaurant, and free parking. Set by dunes near Merzouga, Hotel Café du Sud desert hotel offers a peaceful stay. While searching for "hotel Morocco" you will notice that it is actually not hard to find, but question yourself about what you really want for your holidays, as not all hotels will offer you the best service and location. We invite you to book a room with us and enjoy quality time in the Sahara.
◉ Visit our desert hotel website.
Desert Luxury Riad: Exclusive four-room house surrounded by astonishing sloping dunes and a natural desert landscape, Riad Café du Sud offers its guests a one-of-a-kind traditional desert experience true to the culture and heritage of the Kingdom of Morocco. Riad Café du Sud is an elegant Sahara Desert house combining traditional decor with maximum, modern comfort. It is here where you will experience the ultimate in desert luxury, making your holiday in South Morocco unforgettable. Settled in a beautiful part of Erg Chebbi dunes, Riad Café du Sud provides the ultimate desert living experience. Sleep with the sound of desert wind shifting sands and wake up to the beautiful sound of its many birds waking with you.
◉ Visit our desert riad website.
Camel Trekking: Imagine yourself riding a camel through the Sahara. Arriving at your destination amid the desert with nothing around you but the dunes and all you can hear is the sound of the wind. At night, dinner is served under a sky filled with millions of bright stars. It is an experience well worth the effort and you will keep memories that will last forever. When it comes to designing camel trekking rides, we want to offer you the best holidays ever.
4X4 Desert Excursions: We organize desert tours in the desert so that you can better explore the surrounding region visiting the black desert and getting in contact with fossils. We own a small fleet of new 4WD vehicles driven by experienced local drivers who will transport you in total comfort throughout the wonderful destinations in the south of Morocco.
New Year's Party: To celebrate New Year's Eve in the desert we will prepare you a fabulous banquet with traditional food from the south of Morocco. The magical Amazigh music from our drums and other typical instruments will come together with the voices of our musicians. Accept the invitation to be part of the celebration and make a pause in your dinner to join the excitement.
◉ If you wish to book a tent or a desert excursion with Café du Sud, please use the booking page. For special groups/agency prices or common questions please use the contact page. Our office will get back to you within 24 hours. Thank you.
◉ Follow us on Facebook, Twitter, Instagram.
"Day has its eyes, night has its ears".
Amazigh Proverb